KAMEO is a love story. KAMEO's owner, a businesswoman and a natural host, had enjoyed many family vacations in Greece and dreamt that one day, she would open a luxury boutique hotel on a Greek island.  She visited every island, each one more beautiful than the next, but still didn't feel like she had found "the one".  As she was preparing to fly home, her guide told her "I have one more island to show you".  As the ferry approached Antiparos, she fell in love at first sight and the Kameo story began. One year later in July 2022, after 9 months of design and renovation, the doors to her dream opened to guests.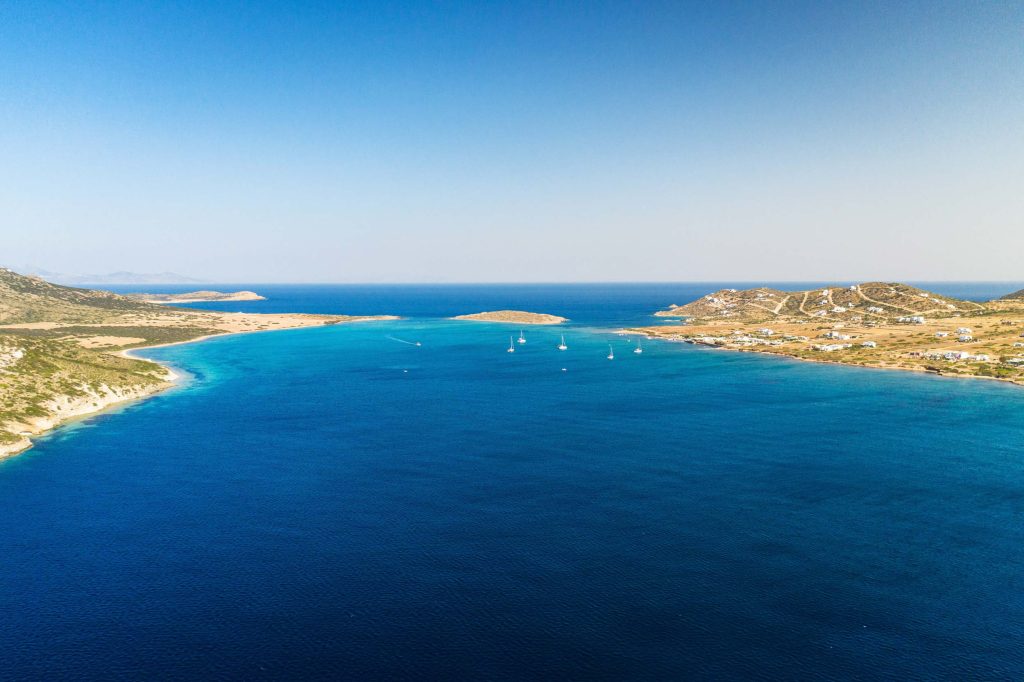 We chose the name KAMEO for several reasons:
First and foremost, KAMEO is comprised by the initials of the family member:

K stands for Kravitz, which is my husband family name.
A stands for my amazing first son – Amit. In Hebrew Amit's meaning is "friend" and this is also one of our values (see ahead).
M stands for my second daughter Maya who is really my Muse and role Model.
E stands for ELLA, my youngest daughter. Ella in Hebrew is a goddess and there is no better place than Greece to know the meaning of that (:
O simply stands for me – Ornit, the owner of KAMEO.
KAMEO is also A version of the Hebrew word KAMEA (English: Cameo Charm for good luck, Greek: γούρι για καλή τύχη). A cameo charm is a piece of jewelry, typically a pendant or a brooch, that features a relief carving of a person or a scene on a contrasting background. Cameo charms are often considered to be heirloom pieces and are treasured for their intricate craftsmanship and historical significance.
If you look at the logo of KAMEO you will see the woman of the charm.
Last, KAMEO reminded me of the word "Cameo" when you refer to a role, Cameo is a brief appearance or a small part played by a famous or recognizable person in a movie, TV show, or other performance. Cameo roles can be played by actors, musicians, athletes, or even politicians, and they are playing themselves as guests in the show. This is my idea of KAMEO – To welcome anyone to come and just be himself.
So now when you know the story behind KAMEO you can scroll down to learn what values KAMEO stands for.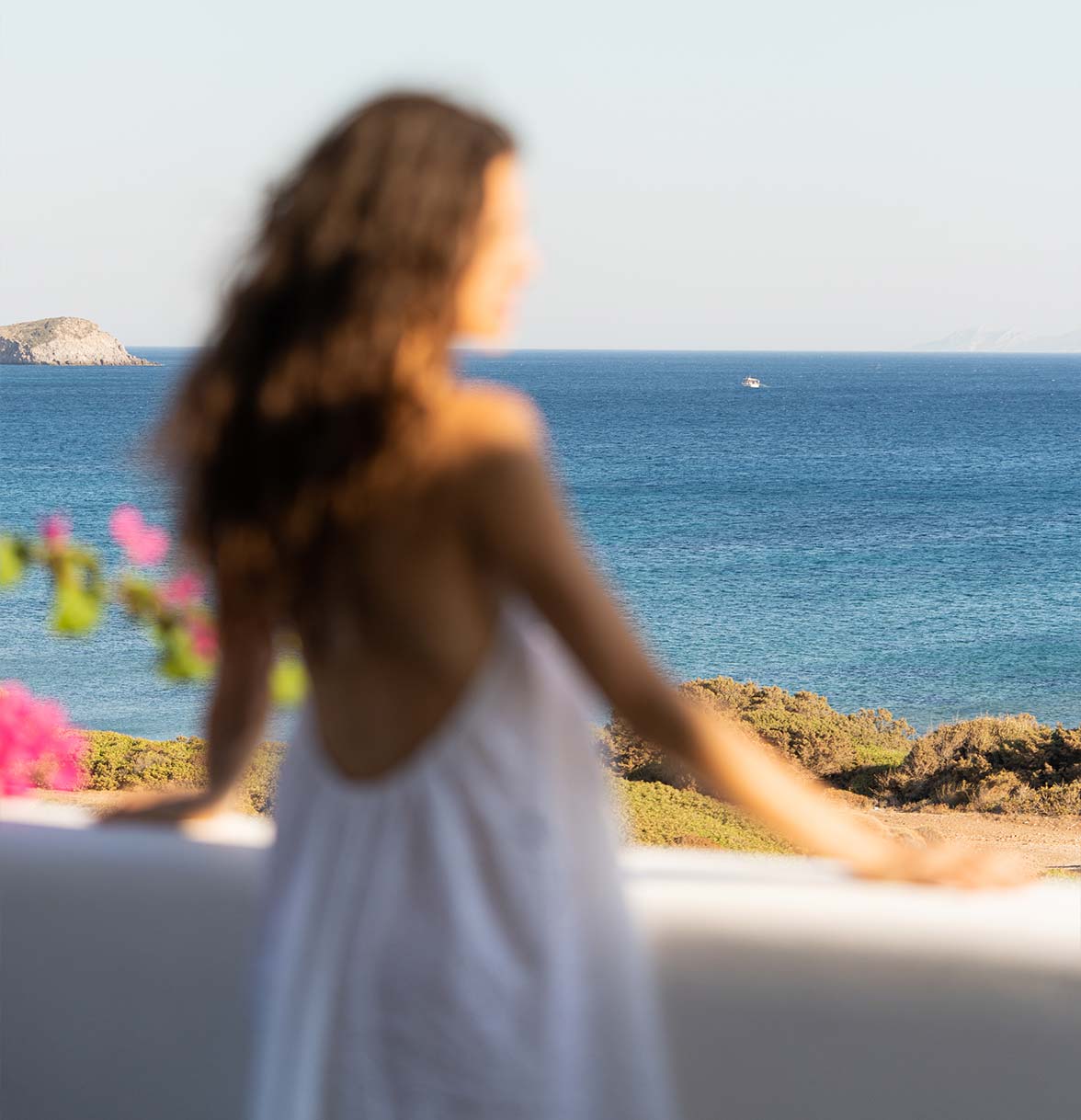 K goes for Kick-back, relax and enjoy. This is my number 1 value and actually this is the philosophy behind KAMEO and what I wanted to achieve by creating it: allowing my guests the luxury of worrying about nothing. All they need is o relax. we will take care of all the rest.
A stands for the important value of Authenticity. Being authentic was always my approach in my personal and business career. Now in my new life, this value is superior – I mean, what better atmosphere can fit to be yourself than being in a remote island in Greece?! Come as you are, no judgments, no critics, leave all behind and just be yourself.
M stands for Magical Moments that we all need to get as much as we can from them in our lives. I created KAMEO with the sense of how important these moments are, and the truth is that sometimes take them for granted. So – no more! We need to pick those special moments and cherish them as they will never be back. On my end I commit to try and make you get as much of those magical moments as possible, all you need to do is carry them back home with you.
E stands for few things I feel when I am in KAMEO: Escapism, Euphoria – and of course Elegance. I would say that escapism is what I had in mind coming to Antiparos and the whole KAMEO concept was built around that. No one will stay indifferent standing in front of this beautiful bay of Agios Georgios – with Despotiko right across, and your everyday problems will look so small, even for a while. Standing there makes you feel so good, in front of what this beautiful nature gives us, with its simplicity and yet depth of wisdom that the waves will bring from ancient times of the Aegean sea. Perfect escapism, I know you will feel that exactly as I do.
O stands for Opulence, Luxury. There are many ways to define luxury, but for me luxury is having one thing in mind – the guests happiness. ALL DAY. EVERYDAY. Opulence and luxury are no in the "financial" sense, you will not find golden furniture or heavy chandeliers. But you will find richness in attention to details that will make you feel like you are at home and nothing is more important to us than that. That is the reason I created KAMEO: To make people feel comfortable and happy and enjoy this magnificent island in the most comfortable way possible. This is Opulence to me.
KAMEO is located in Agios Georgios in the south of Antiparos.  The unimaginably beautiful secluded beach 50m from Kameo directly faces historical Despotiko.  This part of Antiparos is loved for being a very peaceful part of the island.  The calm vibe of the area adds to its infinite beauty.  10 km away, in the pretty harbour area and charming cobbled streets of Antiparos village, you will find an abundance of eateries, bars, fashion, home and design concept stores and Agios Nikolaos church in the village square.
The more touristic island of Paros, with its busier beaches and restaurants is only a 10 minute ferry ride away and is easy to visit in 1 day, with museums and churches to visit, as well as historical sites including the famous Byzantine path dating back to 1000 AD.

RESERVE YOUR STAY ON OUR HOMESITE FOR BEST AVAILABLE RATES & LEAVE THE REST OF THE DETAILS TO US!